In this post, we will share some key ideas about Amazon FBA. We will highlight how it works, its pros and cons, and critical decisions that should be considered. Finding the right eCommerce fulfillment partner can be the difference between scaled success or settling for scraps.
If you've heard of Amazon, you've probably heard of Amazon's FBA program.  If you haven't – no worries.
What is Amazon FBA?
Fulfilled By Amazon:  A fulfillment service offered by Amazon to third-party eCommerce sellers as a way to fulfill and ship orders to customers.

How Does Amazon FBA Work?
Amazon's FBA program works very similarly to normal fulfillment processes and the services you'd find when working with a third-party logistics provider (3PL).  However, when partnering with the world's leading eCommerce giant, there are definitely a few catches.  
First, let's take a look at the steps involved when selling with Amazon FBA.
Step one: Send your products to an Amazon FBA warehouse

Step two: Amazon adds your inventory to their warehouse.

Step three: Customers purchase your products directly from Amazon

Step four:  Amazon picks, packs, and ships out the order 

Step five: Amazon handles customer questions and concerns.
If a product is competing head-to-head with Amazon, it's not likely the seller's product will supersede it.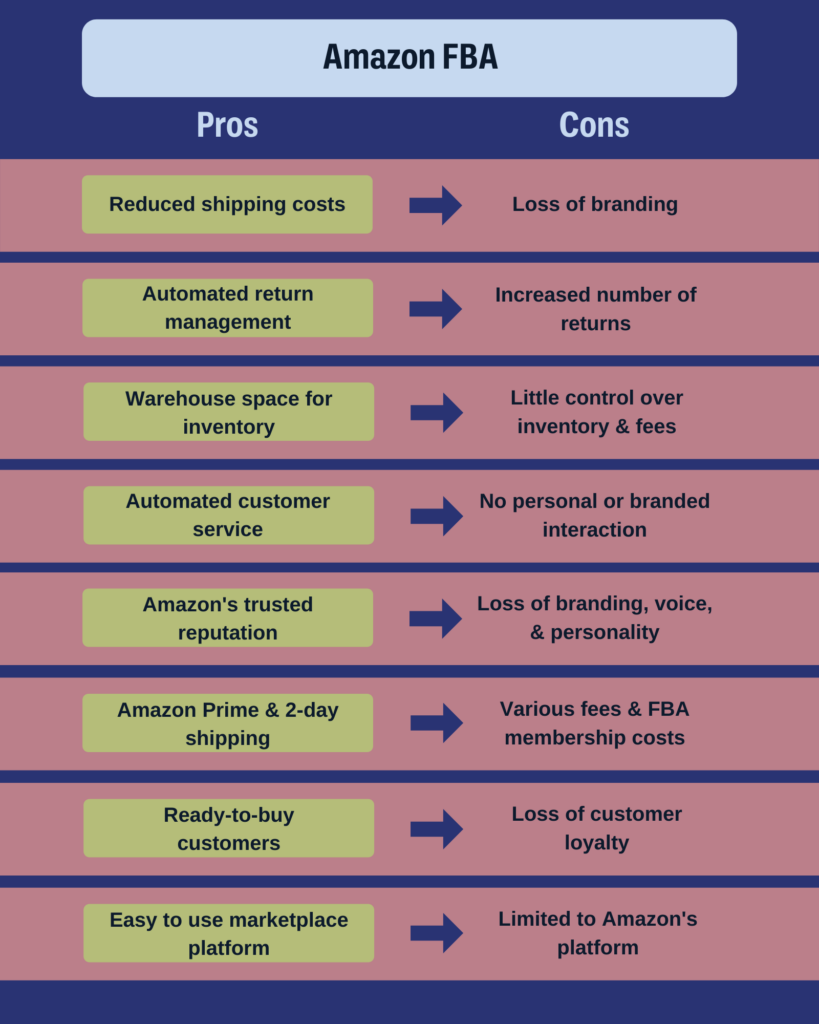 Pros of Selling with Amazon FBA
Reduced Shipping Costs
Because you're partnering with a fulfillment giant who owns their own fleet of delivery trucks, planes, and even drones – it only makes sense that Amazon would want you to transition to their carriers over domestic options.  Even though it comes across as cheaper for you, Amazon is still making a profit on shipping costs.
By utilizing Amazon's branded shipping carriers through their FBA program, you can find reduced shipping costs for your own eCommerce business in comparison to in-house fulfillment shipping costs.
Return Management
When utilizing their customer service option, Amazon lets you transfer the stress of return management to their shoulders.
Customer service teams will communicate with buyers and provide a hassle-free return experience with little to no help from sellers.
Warehouse Space
Transferring your fulfillment process to Amazon provides eCommerce businesses access to virtually endless storage space – with a price of course.  Because Amazon owns and operates multiple distribution centers around the world, benefiting from a surplus of inventory space and speedy delivery times may seal the deal for you when considering Amazon FBA.

Customer Service
Another huge aspect of Amazon's FBA program is utilizing its customer service platform.  Most businesses spend 11% of their annual revenue on their customer service sector.  By partnering with Amazon, some eCommerce can reduce the need for customer service platforms, equipment, and in-house agents.
Reputation
As a start-up, it's difficult to establish a solid reputation.  That's why many eCommerce businesses are partnering with Amazon to leverage and align with their reputation for speed, quality, and convenience. 
By associating  Amazon's reputation with your own products, customers are more likely to purchase from little-known sellers when their order is backed by Amazon's quality guarantee. This streamlines the process for first-time sellers to get products in the hands of shoppers.
Ready-to-Buy Customers
One of the many reasons to start fulfilling with Amazon is the access to millions of ready-to-buy customers.  Instead of catching shoppers at the right time with the right promotion and with the right item, your product will be displayed in front of thousands of consumers actively searching to buy that specific item.  
Amazon Prime
After Amazon unveiled its Prime membership and 2-day shipping to customers around the world, a new standard was born. The expectation for "Prime" delivery times is now the standard in the eCommerce marketplace.
Getting orders out to customers at such speeds can be difficult for some eCommerce brands.  That's why when you join Amazon's FBA program, you automatically join the Prime Club and are eligible to offer fast and free 2-day shipping for your buyers.

Cons of Selling with Amazon FBA
The Size of Amazon
With over 9.5 million sellers and 150 million users, it's no secret that Amazon dominates the online industry.
When considering a partnership with this eCommerce giant, it's important to note how saturated their seller market is.  In 2019, Amazon reported that small and medium-sized businesses sold  4,000 items every minute. 
That's a lot of competition to stand out from.
Amazon Makes the Rules
Amazon has the ability to collect mass amounts of data from its customers, regardless of if they're purchasing from you or not.  With data that is only partially shared with sellers, Amazon has the huge advantage of targeting popular products, winning the Buy Box, and even lowering prices to beat popular bargains. 
Common Returns
Although Amazon makes return management easier, they also make it easier for your customers.  Partly due to Amazon's no-questions-asked return policy and generic shipping procedures, your eCommerce will more than likely see a rise in returns after joining Amazon's FBA program.
Loss of Branding
When you choose to partner with Amazon, you forfeit your right to create a branded shopping experience for your customers.  Instead, buyers will see Amazon's logo on each generic box sent to them.
Additionally, sellers lose the ability to provide personable communication with shoppers and build their buying experience.  Instead, shoppers are met with automated Amazon communications and help-desk agents.
40% of consumers said they would consider a repeat-purchase if their order came in gift-like packaging.
Customer Loyalty
As an FBA seller you will have access to millions of shoppers, many of which who are actively looking to buy the products you're selling.  However, even if customers enjoy your product and want to support it, they will ultimately remain loyal to Amazon and its marketplace platform.  
Limited Control
One of the biggest cons of partnering with Amazon is how little control you have over your customer's shopping experience.  When selling on Amazon's platform, Amazon focuses on the product – not the brand. 
This will limit you from having any presence on the platform or differentiating yourself from competitors.  Customers cannot be redirected to branded websites, see personalized ads, or be given the opportunity to explore other products you might offer.
Saturated Market
It's no secret that Amazon has millions of active shoppers browsing their marketplace in search of the perfect product.  By contrast, Amazon is also home to millions of sellers – including itself. 
That's why when you enter Amazon's marketplace as a competitor, you are essentially competing against millions of other people, and the biggest eCommerce giant in the world – making it a bit challenging to grow your audience or increase sales profits.
Partnering with Falcon Instead
Even though Amazon dominates roughly 50% of the eCommerce market, it doesn't mean they are perfect.  Where Amazon falls short for its customers, Falcon makes up for it.  When choosing Falcon you get a variety of perks you simply won't find when partnering with big-name companies like Amazon.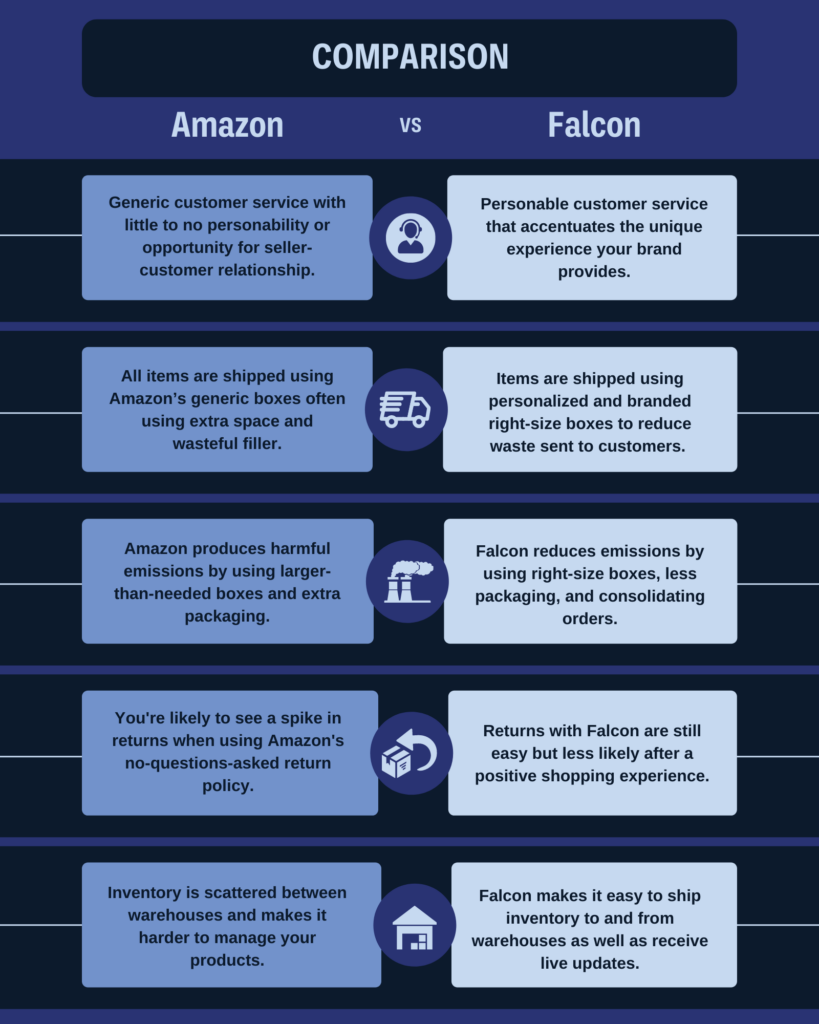 Personable Customer Service
A huge difference between Falcon Fulfillment and working with Amazon is when your customers call in or a client needs attention, you don't get automation or pinged to the next available agent out of thousands.  With Falcon, you're met with personable service every time. 
Whether a customer or partner, communication is valued if not prioritized amongst the Falcon team.  
Customer Experience
One of the number one disadvantages of partnering with Amazon is how limited your brand reaches.  Regardless of how cool your product is or how custom the packaging is, it's going to be put into a generic Amazon box for shipping. 
With Falcon, you still get the generic box – BUT, it's customizable to you and your brand.  Whether it's branded tape, logos, inserts, filler – whatever it is, Falcon is sure to create a memorable experience for your shoppers and improve customer experience through and through.
2 and Same-day Shipping 
When you choose Falcon, you don't have to worry about losing the Prime advantage.  You'll still be able to provide 2-day shipping to your customers 7 days a week. 
Bonus, if customers place an order before 2PM on weekdays, their order is processed that day.
Less Waste and Emissions
Not only are you still getting the Prime advantage without the ugly logo, but you're producing less waste and emissions because of it.  Falcon works hard to decrease vehicle emissions when possible and limits product waste by reducing needless filler, bundling items, and helping clients transition to greener fulfillment methods.

Return Management
Similar to Amazon, Falcon offers return management that makes it not only hassle-free for your customers, but seamless and stress-free for you.  When joining Amazon's FBA program, you're likely to see a rise in returns thanks to shipping damages, open-policy returns, and limited customer communication. 
With Falcon, since you keep control over your customer experience, you're likely to see fewer returns and more repeat buyers.
Controlled Inventory Space
Don't worry about which distribution center your inventory is at and what's going on with it.  When using the inventory space provided by Falcon, your products are on-site and under good care by Falcon personnel. 
With full transparency and an automated inventory management system, you'll know the details of your inventory at any time, anywhere.
Fulfill with Falcon
While selling with Amazon FBA and similar programs might be right for some eCommerce businesses, for others, the benefits are too small in hindsight of the disadvantages we've talked about today.  
When considering utilizing business services for your eCommerce company, consider Falcon.  Because where others fall short, Falcon soars.