Sheets & Giggles is an environmentally-friendly bedding company producing luxury sheets and other bedding items using 100% sustainably grown eucalyptus lyocell. This case study touches on who S&G are, why they partnered with Falcon Fulfillment and their experience in doing so.
Sheets & Giggles' history began with a movie. A movie about an international arms dealer and exploiting government initiatives – War Dogs, to be specific. Throughout Jonah Hill's beloved film there's a single scene that sets the stage for today's well-known sustainable bedding brand.
"I got so frustrated with Miles Teller's character when he had to burn all those bedsheets out of the back of a pickup truck because he couldn't sell them to retirement communities. I paused the movie and wrote a business plan for a bedsheets company that night."
Colin McIntosh, Founder of Sheets and Giggles
From that moment forward the legacy of a sustainable bedding company had begun.
Fast forward to September 2017 and Colin voluntarily leaves his position with Revolar – a company working to actively reduce and stop the sexual assault and violence against young women. During his employment, the company sent over 60,000 alerts to emergency officials and ultimately took part in saving the lives and livelihood of young women around the world.
Key Metrics:
Sheets and Giggles hit $9 million in revenue for 2021, surpassing the first 1 million they hit in 2020, only 3 years after shipping their very first order.
100% plastic-free packaging with no wasteful package filler.
A partnership with One Tree Planted, where 2 eucalyptus trees are planted for every 1 that is harvested for sheets.
A donation program that rewards buyers with 10% off for donating old sheets, ultimately reducing the 10 million tons of textiles that end up in landfills each year.
On October 19th, 2017, three weeks after leaving Revolar, Colin launched Sheets and Giggles. Over the course of a few months, Colin worked on the company logo, typography, and other small details that a company needs to have a strong brand. Colin and his intern started making headway on Sheets & Giggles in January of 2018.
Colin McIntosh - Founder of Sheets and Giggles
But, Why Bedding?
"So first and foremost, I'm a big sustainability person. And my last company was literally trying to fight sexual assault and violence on college campuses. It was like a very mission-driven company. But I didn't want to do something as heavy as that. I mean three years of that and, while I could have gone on longer if we had been more successful, it starts to wear on you with the stories and the things you hear. I did want something a little lighter, but I still wanted something mission-driven. And so I knew I wanted to do something with sustainability."

– Colin McIntosh, Founder of Sheets and Giggles
As Colin thought of the millions of ways he could get into the ecommerce industry, and the few ways he could do it successfully – sustainable bedding came to mind.
"I wanted a physical product that was sustainably made in a massive commodities market that had zero brand differentiation or loyalty. I thought, 'does bedding fit my criteria?' and it did – perfectly. It's a massive commodities market, it's highly fragmented, there's no loyalty or brand differentiation, there weren't any good sustainable options. Everything was mostly physical retail so you could really make some noise online."

– Colin McIntosh, Founder of Sheets and Giggles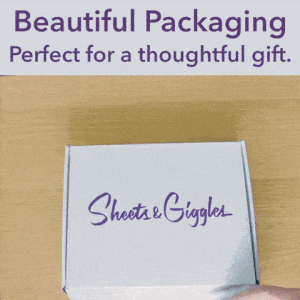 After searching for the best fabric to create his bedding empire, lyocell came out on top as the most sustainable material. With the use of eucalyptus lyocell, S&G products created a near-zero environmental impact, with up to:
96% less water used than cotton alternatives
30% less energy used than cotton alternatives
0% of pesticides or insecticides used. (Cotton uses 16% of the world's insecticides)
Colin launched S&G's first-ever crowdfunding campaign on Indiegogo in May 2018. Within a month, his campaign raised $284,000, making it the largest bedding campaign in Indiegogo history and the second-largest crowdfunding campaign in the bedding sector!
The Rise of Sustainable Sleeping
During their early years, Sheets & Giggles rented warehouse space from a local company in Colorado so that they could start processing and shipping orders. Between 3 people and 1 part-time warehouse employee, the group worked every weekday evening and every Saturday to get orders to their customers.
When the volume of orders increased and showed no sign of stopping, the crew realized that what they were doing was not efficient. They needed to up their fulfillment game so they could get out of the warehouse. So what did they do?
This marks the pivotal moment S&G decided to partner with a 3PL.
"We chose a 3PL based on recommendation and networking. We went with one of those giant 3PLs with "ship" at the first part of their name. What we found was: we got lost. They were unresponsive. I couldn't get a person on the phone, only voicemails. I couldn't get answers [within a day]. I couldn't get the paperwork I needed. They would lose goods and I had to make an appointment to do anything."
Mike Pearl, Director of Product and Operations
Sheets and Giggles quickly realized their first choice in a 3PL partnership wasn't the right fit, so it was up to Mike to find the right one.
"I started out with about 12 different 3PLs that were either recommended to me or I found myself, and I created a spreadsheet. I filled it up with questions I intended to ask [each 3PL] and it took me about 4 months to narrow it down to two – and I picked Falcon Fulfillment out of those two."
Mike Pearl, Director of Product and Operations
So, why did S&G ultimately decide to go with Falcon Fulfillment?
They wanted a 3PL that would care about their business.
They wanted to be able to call and get a responsive answer.
They wanted a dedicated account manager that would assist them personally.
"I was looking for a medium-sized 3PL that we could be important too. I was not important to the huge 3PL because I wasn't that big compared to their largest customers. I knew what size I wanted my 3PL to be and Falcon fit that role. I was able to get the personal touch that I had been seeking, in terms of being able to access actual human beings in the course of a workday, get call-backs and have people answer the phone. I could call and ask someone to run over to the shelves and check [something] for me and they would. I was really looking for that kind of personal touch and responsiveness without losing any capabilities – and the prices were good."
Mike Pearl, Director of Product and Operations
Sheets and Falcons
After their first year with Falcon Fulfillment, we take a look back at how their 3PL partnership choice has paid off.
"I will say that every time we come up with something new that we want to try, Falcon is always willing to try it. Sometimes it's required that the Falcon IT team do integrations or something new in software, some of it has required that [Falcon's Director of Operations] sit down with teams, and we even taught Falcon how to do a Good Morning America sale, which, on the last one we did, we shipped and sold over $600,000 in a day.  I commend Kipp (the Vice President of Falcon Fulfillment) and his team because they're willing to learn along with their customers."
Mike Pearl, Director of Product and Operations
Aside from the many members who aid S&G in their 3PL journey, Mike continues with praise for some of those S&G works with closely:
"I give Lori (Director of Operations) a ton of credit because she goes above and beyond to find answers for you. She knows her stuff and she will go get the information. She's timely, very transparent, and honest, and I appreciate that. All in all, it's just kind of that all-hands-on-deck type of attitude."
"My two account managers are fabulous. It's not uncommon for them to be out pulling orders. I asked for a daily report and my Account Manager instituted a daily report, which gets sent to me everyday. They're willing to do those things that aren't necessarily part of the 'normal menu' from Falcon, but when we express a desire to get that service – they institute it."
Mike Pearl, Director of Product and Operations
It has been one year since Sheets and Giggles partnered with Falcon Fulfillment. Their business has continued to scale and evolve. Here at Falcon we enjoy working with S&G because not only are their witty jokes our favorite, but they're also professional, friendly, and most of all, just darn good people.
We asked Mike what S&G has enjoyed most about our first year together and this is what he said:
"You know, I really go back to the personal touch and the ability to change on the fly. With Falcon, if an order has not gone on the FedEx or UPS truck yet, I can change it – they're willing to do that. They're willing to go out and find it and make the changes that I'm requesting. If a customer calls and says they ordered the wrong size, color, etc Falcon has the ability to change those things. In addition to order changes, they allow us to make changes to our freight services. They've allowed us to do what's best economically for S&G, sometimes using our own freight services instead of theirs – which is a big deal in the 3PL business."
Mike Pearl, Director of Product and Operations
Overcoming Sheet Together
In the beginning, there were challenges that S&G faced. Falcon Fulfillment was able to help with their long, faulty receiving process.
"The receiving aspect was huge. In 2 years, I don't think I ever got the receiving checked incorrectly at the other 3PL. I had to make an appointment, lots of times I couldn't get my container in the door for 2 weeks, and my inventory was always wrong. I have not had those problems with Falcon, and believe me, we've dumped some "sheety" shipments on them. Shipping-wise, things backed up because of the holiday. Yesterday, I looked and we had received 182 orders. Falcon shipped out 642 orders. So, they're catching up in a hurry with the backlog of orders. Order's don't sit around at Falcon!"
Colin McIntosh, Founder of Sheets and Giggles
Exciting Things Are Coming in 2022 For Sheets & Giggles
With such a successful two years, we can only expect great things from S&G moving forward. They've been able to find success with their signature products because of their consistent quality and sustainable practices.
As much as we would love to include the juicy, info-filled insights Mike provided us, it's only appropriate for us to say that 2022 is the "year of new products". It's safe to say that Sheets and Giggles will be introducing never-before-seen inventory that customers are likely to fall in love with.
Learn more
Boost your e-commerce business by finding a better order fulfillment partner. See if Falcon Fulfillment is the best fit for your brand.
Get Started Today