How a 3PL Helps Your Business Scale
An Expanded Network
When partnering with a reputable 3PL provider, you invest in an expanded network that provides greater customer access and exposure.  Mid to intermediate-level 3PL companies typically have multiple fulfillment centers. 
Expanded access to multi-site warehouse facilities gives you the opportunity to offer 1-2 day ground shipping. This allows your products to reach customers faster.
Flexibility and Scalability
One of the biggest concerns of eCommerce brands is that using a 3PL will limit their autonomy and choices. This is why having a 3PL partner that offers flexible fulfillment is crucial. 
When scaling your eCommerce, it's important that you have a plan and the future ability to increase and decrease fulfillment measures as needed.  This gives you the freedom and flexibility to scale without making unnecessary investments or paying for unused warehouse space. 
Consider 3PL services to be a pay-as-you-need option for large-scale fulfillment, cool, right?
Cost Reduction
Many eCommerce brands assume that utilizing a 3PL partner will be costly. However, numerous partners have found that making the switch helps lower overall fulfillment costs and saves them money.  But how?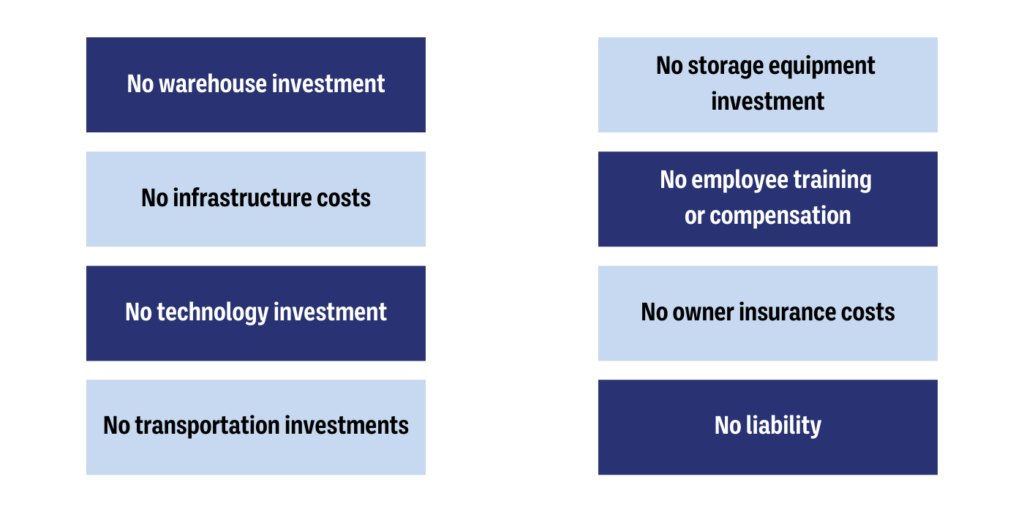 Higher Consumer Satisfaction
Consider start-up in-house fulfillment and the quality that's crafted into every order.  Each customer experience is positive, genuine, and memorable. 
Now, consider providing that personal touch to each and every order on a mass scale.  This becomes exponentially harder to execute once orders come in at a rate that overwhelms your current capacity. 
When scaling your eCommerce with a 3PL partner, you don't have to choose between quality and efficiency.  Your 3PL partner will understand that both go hand in hand and will strive to deliver an unforgettable experience to your customers each and every time.
Integrated Technology
One of the biggest benefits of working with a 3PL provider is the direct access to advanced and integrated technology without investment.  Your business can leverage the latest in inventory management software, accurate order processing platforms, and in-depth reporting dashboards.
These costly platforms provide 3PL eCommerce partners with a detailed birds-eye view of the entire fulfillment operation without having to purchase them in-house.   
Greater transparency gives you the confidence of better control.
Did you know that Falcon Fulfillment's transparent and proprietary IMS software allows clients to access detailed information in real-time?
Return Management and Customer Service
A massive time-suck for in-house fulfillment is return management and customer service.  After creating a memorable product and genuine customer experience, you are inevitably met with returned products and complaints for a variety of reasons. 
With a 3PL partner, return management and customer service is no longer the unmanageable task it once was. Instead, it's a streamlined process that meets the expectations of customers and resolves any concerns your shoppers might have.
This leaves you with more time and emotional brainpower to focus on the rest of your business.
On-Demand Fluctuations
Another benefit of scaling your business with a 3PL partner is on-demand changes can be made on the fly.  Regardless of the season, your 3PL partner can scale fulfillment capabilities as needed and keep your eCommerce continuously meeting customer and eCommerce expectations around the clock.
Dedicated Fulfillment Professionals
Sometimes, learning from the master is the best way to go.  That's why, when scaling your eCommerce with a 3PL provider, you will encounter and work with dedicated fulfillment professionals that know the fulfillment industry inside and out.  You don't want amateurs handling one of the most crucial and sensitive procedures of being an eCommerce business owner and operator.
Whether you're considering going big or you've been trying for a while, scaling your eCommerce with a 3PL partner can benefit your business in a variety of ways.  From a stronger customer reach and advanced fulfillment technology to flexibility and on-demand fluctuations, a third-party logistics provider is the secret to a successful eCommerce when scaling past dropshipping or in-house fulfillment.