In today's age of digital shopping and third-party logistics, e-commerce businesses are growing at an exponential rate. With this new technological surge of mass online purchases, it's almost a bad idea not to get involved and take advantage of the new age of D2C transactions.
In this article, you'll learn the number one secret to succeeding as an e-commerce brand in a saturating, cybernated environment.
First, it's important to understand why e-commerce revenue has grown 30% over the last 10 years, and a whopping 43% in the single year of 2020. E-commerce has been around since the late 1960s and has evolved from small information exchanges to globally renowned brands like Amazon, eBay, Etsy, and many more. With the rise of these popular companies, small businesses have harnessed the benefits of e-commerce.
Today, it's abnormal for a company, business, or brand to not have a website that allows you to purchase their items or services digitally.
"63% of consumers go online when buying locally. 46% say they don't trust a business without a website."
– According to the Local Search Association and a survey conducted by Weebly.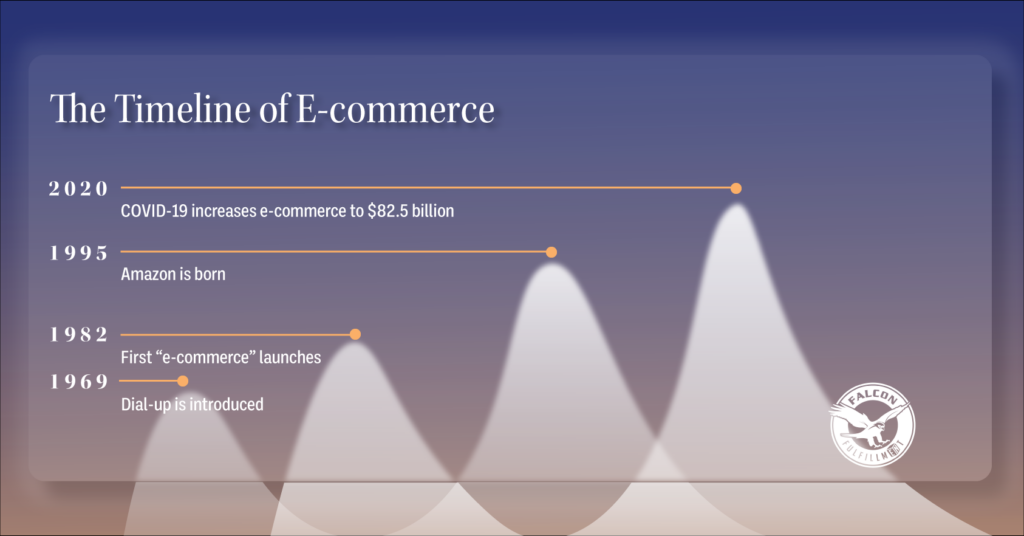 As you can see in the condensed graph above, the e-commerce industry steadily grew in popularity after its initial introduction in the late 1960s; however, you'll notice that between 1995 and 2020, e-commerce took the entire world by storm.
During the global takeover of COVID-19 and the (what felt like) endless days of quarantine, digital transactions produced over $82.5 billion dollars in a single year.
By contrast, e-commerce in 2019 produced only $360 million. This was a 77% increase in one year of e-commerce growth which was previously assumed to take a gradual 4 to 10 years.
This was an unexpected milestone for the e-commerce industry, and brands and businesses alike should assume that e-commerce will become the number one leading industry for retail sales.
In 2020, e-commerce businesses were met with a demand never before seen. As the pandemic spread, seemingly overnight companies were forced to shift 100% online.
Those who did not have an online ordering infrastructure already in place had to scramble for solutions to stay in business.
After such sudden growth, it's no surprise that order fulfillment demands skyrocketed for e-commerce companies. This begs the question, what was the constant factor that brought success to e-commerce businesses during this surge in online ordering?
Their secret was simple: they outsourced fulfillment to a third-party logistics partner. Let's take a closer look at what goes into a seamless and lucrative order fulfillment process.
Fulfillment: Joys, Risks, and Fears
"The top factor in successful e-commerce brands is simple: fulfillment."
The fulfillment process is meant to be the fun part.
You've got your finalized product, polished and ready to ship, neatly packed in custom branded packaging to give your buyer a tailored experience. This is the last step before completing the circle and creating a happy, returning customer.
For start-ups, small businesses, and other brands alike, it's exciting to receive your first few orders and personally send them off.
You get the satisfaction of making sure each one is filled with love and its own personal pazazz. However, as your business grows, 5 orders soon turn to 100, 100 to 5,000.
A single person or a small team can only spread themselves so thin before the quality of the product that makes your brand unique is too saturated from the lack of care and personalization that each order requires. Throughout your business's journey you will eventually encounter the non-negotiable processes of fulfillment.
Now, it's always an option to personally handle the picking, packing, and shipping in-house by yourself or by your designated staff. However, managing all 7 stages of the fulfillment process (receiving, inventory, storage, order picking, order packing, shipping, delivery, and returns), as well as maintaining quality and giving equal amounts of attention to the other aspects of your business may result in a subpar experience and product.
It's important to partner your brand with a carefully selected team of professionals designated specifically for your fulfillment process.
By working alongside a reputable third-party logistic partner, you're able to shift the extra stress of fulfillment (which is a separate job in and of its own) to experts trained in the art of transferring your product with quality in mind. From the manufacturer all the way to your customers, a 3PL has your back.
How Partnering with Third-Party Logistics Companies has Impacted the E-Commerce Industry
Since the 1980s (less than 40 years ago), the fulfillment operations for companies throughout the world have been extremely diverse. Over the years, industries emerged to give businesses an extra hand in reaching as many consumers as possible with the highest quality retained.
However, none of these industries have proven to be more successful than the introduction of third-party logistics.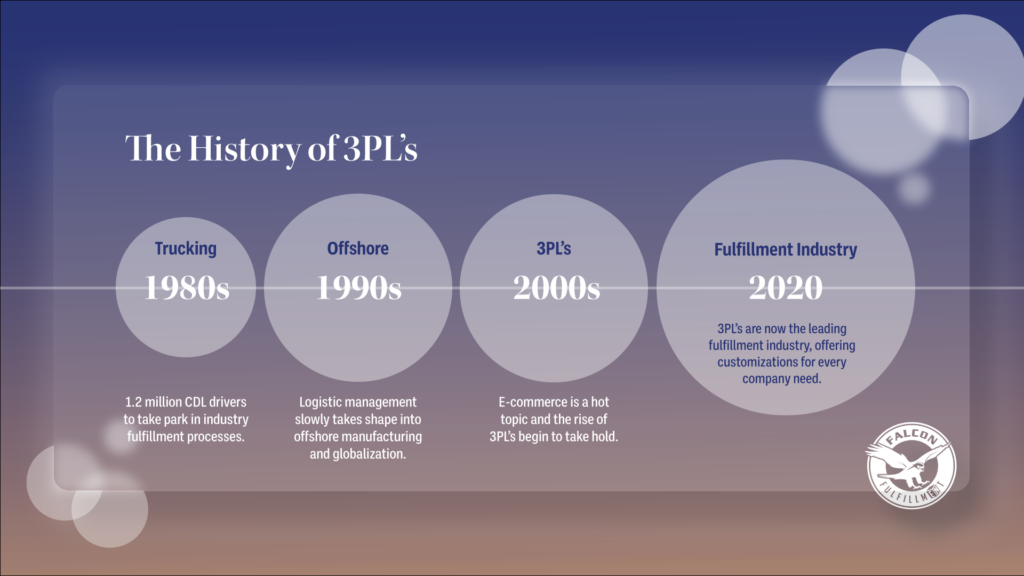 With the integration of e-commerce platforms, the opportunity arose to work with local and foreign 3PL providers that offered unique solutions to the ongoing challenges that companies face when connecting their products to consumers worldwide.
Once introduced, e-commerce fulfillment partnerships have simply improved, now offering designated fulfillment services integrated with leading and robust technology platforms to guarantee a streamlined experience for companies and consumers.
"As of 2013, 86% of domestic Fortune 500 companies use 3PLs for logistics and supply chain functions."
– According to an Armstrong & Associates report.
Today, e-commerce brands all over the world are using reputable 3PLs to their advantage. Outsourcing e-commerce fulfillment is the industry secret that's taking the globe by storm, from small businesses to Fortune 500 organizations. With the adoption of 3PLs into e-commerce, many brands experience improved volumes of operational efficiency and seller profitability.
Additionally, third-party logistic providers assist in reducing the overall cost of shipping and delivery time, better order accuracy, and ensure a positive consumer experience. Since its inception in the 1990s, 3PLs have taken the challenges of fulfillment and developed an industry of their own, guaranteeing business owners worldwide that their fulfillment procedures will be managed by experienced teams.
The Future of E-commerce and Third-Party Logistics Partnerships
With e-commerce more than doubling in popularity since 2019, it is expected to continue its climb in the upcoming year of 2022 with little chance of decline in the foreseeable future. As customers race to buy products online, the demand for next-day shipping, sustainable packaging, and personalized orders necessitate a larger need for quality fulfillment with e-commerce brands worldwide.
Without someone to bring quality and close attention to your backend fulfillment, the chances of brand growth remain within the limits of your own capabilities. By partnering with a third-party logistics provider, you give yourself and your brand limitless freedom to create, define, and control each aspect of your business.
The Benefits of Using a 3PL for Your Business
Healthy Profit Margins
By aligning your business with the right third-party logistics fulfillment partnership, you gain the benefit of alleviating the stress of unhealthy profit margins. This decision can save you money on product transportation, warehousing, staffing, shipping, and inventory.
When you partner with an e-commerce fulfillment provider, your cost margin will be considerably lowered, allowing you to realize savings inflation and the financial freedom to reinvest in your company through marketing and product development.
Time Management and Prioritization
When you delegate countless hours of work to a specialized fulfillment team, you will have more time to devote to what is most important to you. The operational element of a business is an area most business owners don't thrive in.
This is because you have expertise establishing and managing your unique brand, not fork lifting and packing thousands of orders in a warehouse. That is why 3PL's such as Falcon Fulfillment exist: to take the fulfillment off your plate, so you can have the time needed to focus on the front end of the business, worry-free.
Inventory Freedom
Above all else, inventory is the biggest benefit you'll receive when working with a reputable 3PL. Shipping, packaging, and returns are straightforward. However, if you don't have the room for your growing inventory, then you won't see the profit increase you're looking for.
When working with a 3PL, you leave the inventory worry to them. Growing your brand and increasing your sales with ease can only happen when partnering with a reputable 3PL that will scale with you.
Customization and Quality Assurance
Working with a third-party logistics provider ensures quick fulfillment and backend satisfaction. To have the best scalable possibilities for your company, you can find one that provides many customization options to tailor your brand's fulfillment process.
Collaborate with your 3PL partner to incorporate branded shipment packaging, custom promotional inserts, flexible shipping options, and even environmentally friendly packaging.
There's a 3PL for everything, and one designed particularly for you and your business.
Harness the Power of a 3PL Partner
You will, without a doubt, come face to face with fulfillment sooner rather than later in your business journey.
Although it can be a tough process to tackle, it is critical to understand your options as an expanding business. 3PLs and e-commerce have permanently altered the way individuals do business.
The combination of e-commerce with a modern third-party logistics provider enables you to future-proof your business and be ready for whatever the next technological wave of brand success and consumer demands bring.
To learn more about how Falcon Fulfillment can help you scale your business with better fulfillment, click the button below.