Guide to Choosing a 3PL Partner for eCommerce Order Fulfillment
Working with the right fulfillment partner can make the difference between a highly profitable and highly frustrating relationship. It can feel overwhelming when starting to look for a new fulfillment partner. You must be patient, clearly understand what you want, and know the industry standards. There are some key criteria to consider to find the right fit for your eCommerce needs. This guide will share the steps and aspects of choosing a 3PL partner for your unique eCommerce business.
Indications it is time to switch 3PL providers.
When it comes to knowing when it's time to switch 3PL providers, there are several signs to examine. The first is a decline in customer service. This can come in the form of bad reviews, delayed shipping, order and inventory errors, or delays. If you find that your provider can no longer meet your customer service needs, or if you're not getting a timely response when you have an issue, then it's likely time to move on. Another sign is if you're consistently running into problems with the process: delayed shipping, receiving, slowing order cycle times, or incorrect orders being sent out. Lastly, if your 3PL provider can no longer accommodate your company's growth or changes, it's time to look for a provider that can.
Qualifications to look for when choosing a 3PL partner.
Streamlined Shipping Operations
It should come as no surprise that topping our list is streamlined shipping operations. After all, this is the quintessential service offering of a 3PL fulfillment partner. Ensuring customers receive what they order promptly is a fundamental requirement of any eCommerce order fulfillment partner. However, not all 3PL companies are created equal when it comes to their shipping operations. When choosing a 3PL partner, ensure they leverage automation in their shipper operations, including shipping labels, multiple carrier relationships, multi-site distribution centers, and real-time inventory tracking. These additional features improve shipping times and accuracy.
7 Day Operations
3PL providers that offer continuous operations can provide you and your customers with a higher level of service. 3PLs with 24//7 service process orders more quickly, decreasing shipping windows and allowing for 1-2 day delivery for most orders in the US.
Multi-site Distribution
How close is the warehouse to your manufacturer and your customers? Selecting a fulfillment provider with multi-site distribution lets your business offer faster deliveries. Choose a provider that is easily accessible to you so you can tour a property near you. This not only gives you peace of mind but also affords you the ability to direct aspects of the fulfillment process when needed. This is especially true of brands with custom or personalized packaging requiring special handling.
Communication
Most relationships that end poorly have done so because of a lack of clear communication. It is impossible to solve problems without an open line of communication. It is vital to choose a 3PL partner that provides you with assurances about how communications occur. Solid eCommerce fulfillment partners will offer 24/7 real-time data for orders, inventory levels, etc. Some providers even have a dedicated account manager to troubleshoot specific issues. Determine the appropriate communication level and make certain the channels, people, and processes are clear before you engage with a new partner.
Scalability
Many eCommerce brands switch providers because they can no longer service the number of orders or are limited by the regions where shipping is available. Regardless of the reasons, this restricts growth. As you interview new 3PL partners, it is crucial to evaluate their capacity limits. Look at current limitations as well as projected limits. You don't want your provider to run out of warehouse space or be unable to accommodate an influx of new customers. Your company should share existing order volumes and where you hope to be in the next few years.
Experience and Expertise
When choosing a 3PL partner for your eCommerce fulfillment needs, ensure they have a long and consistent history as a service provider. This will help confirm they have adequate experience and expertise in order fulfillment. Unfortunately, as eCommerce boomed, so did sub-par 3PL providers. It is important to do your research to find the right match. A solid partner will have years of experience, expertise in your industry, and a verifiable track record. Ask to speak directly with the staff you will be working with; this will give you a good indication if your 3PL employs and trains knowledgeable staff.
Expansive Carrier Network
Most 3PL partners have relationships with numerous carriers, but it is essential to understand if those relationships are in networks where you most often deliver. For example, if DHL is the primary carrier in a specific sales region, you must ensure your partner has a relationship with them. Furthermore, many 3PLs benefit from carrier parcel discounts because of their volume of orders. Discuss what discounts might be afforded your eCommerce due to the partnership.
Review Value-Added Services
Each 3PL partner will offer a different variety of value-added services. From kitting and assembly to reverse logistics, determine which additional services are necessary or desired for your eCommerce business. Here are a few standard value-added services to consider when choosing a 3PL partner.

Kitting and Assembly

– Kitting and assembly services include Adding labels or tags, assembling items into a kit with a new SKU, adding custom printing or numbers, and assembling components before shipment. Kitting and assembly services are commonly used when creating product bundles, promotional sales packages, and subscription boxes.

Custom or Branded Packaging

– Many 3PLs like Falcon Fulfillment enable you to completely customize your packaging. They help you personalize every part of your package, including the material, size, style, insert, packing tape, etc. In addition to personalization, an ideal partner will help ensure the right size and eco-friendly packaging.

Returns Management

– Reverse logistics and returns management is a time-saving value-added service provided by great 3PL partners. This eliminates the need for a separate location to execute refunds and exchanges and add inventory back to the warehouse when possible. Returns occur in approximately

20-40%

of online purchases, so it is vital to have a streamlined system to process them quickly.
Sustainability
Sustainability has been a growing eCommerce trend for several years now. Consumers are looking to support companies committed to building a sustainable future. The transportation and fulfillment industry has not always been environmentally aware. However, the customers have spoken through their wallets that ensuring eco-friendly practices are a priority. When choosing a 3PL partner for your eCommerce order fulfillment, ask how they work toward a sustainable future. Here are a few ways a 3PL partner can help create a sustainable business:
Reduce transportation emissions

Sustainable packaging options

Optimized energy usage (in warehousing and with vehicle fuel sources)

Streamline reverse logistics
Transparency
Being left in the dark about inventory, stock levels, or delivery statuses is poor service and bad for your business. Determine what information your potential 3PL partner shares, when that data is regularly shared, and what the processes are if there are issues. A solid 3PL partner  should behave like a teammate. They don't try to hide aspects of business operations vital to success. Ensure the necessary information and communication are discussed before engaging with a new 3PL.
Culture Matching
While this might seem like a low priority, matching company culture can mean the difference between a thriving and symbiotic partnership and a parasitic one. When you match culture, you ensure that the principles you share are carried out to their full potential. Questions to consider are:
What values do they appear to uphold?

Do they have a mission statement? Does it match or complement your own? 

Do you have similar priorities?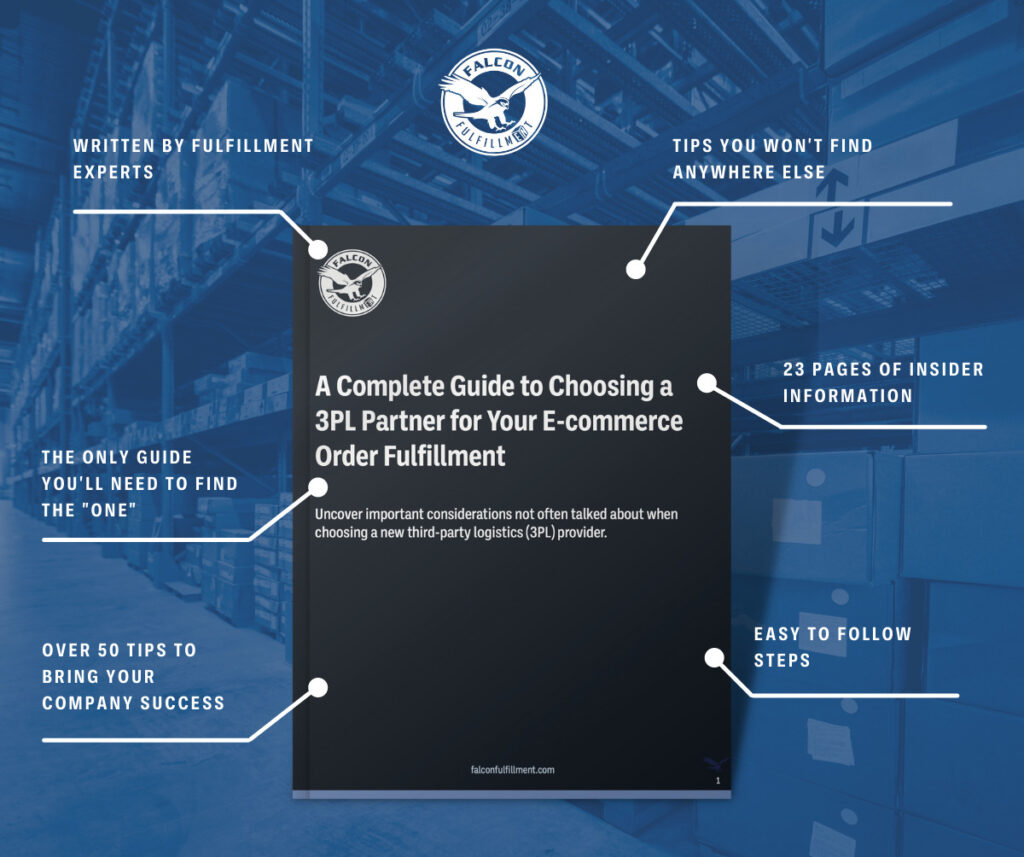 There are many things to consider when choosing a 3PL partner for your eCommerce order fulfillment. The process can initially feel overwhelming, but the key is to fully evaluate the new relationship. A solid 3PL partner can improve your business outcomes and profitability and even open new doors of opportunity, so the choice should not be rushed. Take your time and ensure your new 3PL will provide the necessary services and align with similar values and culture to help your eCommerce succeed. Are you considering a switch? Let Falcon Fulfillment help your eCommerce business thrive. Get in touch today to learn more about us.