3PL VS 4PL, What Are They?
3PL vs 4PL, what are they? How do they differ? What can eCommerce businesses stand to gain or lose by using one over the other for their fulfillment needs? We hope to shed a little light on which type of fulfillment company you should choose for your business needs. 
What is a 3PL
Third-Party Logistics is an industry term most are familiar with. For companies looking to outsource their entire logistics process, 3PLs are the answer.  They are able to handle the management of receiving, inventory warehousing, packaging, and shipping services, letting eCommerce businesses focus on other important areas of their company.  Some 3PL businesses offer additional logistics services known as value-added services.  These include inventory management, kitting, assembly, and more.
What is a 4PL
Fourth-Party Logistic Providers act as consultants.  While their services are similar to a 3PL, they lack the physical means to move inventory through the supply chain themselves.  Instead, a 4PL will contact and negotiate services between the necessary companies on your behalf.  4PLs are often used when an eCommerce does not have staff to oversee transportation and logistics operations. 
3PL VS 4PL: Main Advantages
The primary distinction between 3PL VS 4PL is that a 4PL manages the whole supply chain and does not provide any physical warehousing or assistance.  A 4PL will instead coordinate multiple services, including 3PLs, to aid your eCommerce. A 3PL, on the other hand, is primarily focused on the logistics management process and personally provides physical warehousing, logistics, and value-added services.
3PL VS 4PL is a heavily debated topic within the eCommerce and logistics industries for which option is ultimately better.  The truth is, each one is meant for different situations and business needs.  Understanding the key differences between 3PL VS 4PL will ultimately affect your company on the bottom line.

The Benefits of a 3PL
There are several benefits to working with a 3PL partner. Firstly, they provide the skills and expertise required for enhanced performance in areas like fulfillment, transportation, and logistics. Through established networking relationships and expert knowledge in the fulfillment sector, 3PLs can upgrade your systems and simplify your overall operation in terms of efficiency and cost. Additionally, 3PLs can provide insight into obstacles that arise during shipping operations, day-to-day fulfillment, or even customer service. 
Scalability
Partnering with a 3PL provides flexible warehousing that can scale according to the needs of your eCommerce.  Depending on your order volume, a 3PL partner can scale operations and inventory space up or down to provide everything your eCommerce needs, and nothing of what you don't. This is essential for seasonal eCommerce businesses. 
Shipping Solutions
With networking partners and insider shipping solutions, a 3PL can provide the best bang for your buck when considering order shipment for your business. Your 3PL partner can negotiate better pricing based on their high-volume purchasing power. Without a 3PL partner, your eCommerce faces stiff prices named by private shipping companies and little to no cost advantage over competing eCommerce. 
Control
A 3PL partner offers a balance between management and personal control over your eCommerce.  Your business can fully automate the fulfillment process without sacrificing customization or control.  Work with your 3PL to personalize your fulfillment process and make it the perfect fit for your eCommerce while maintaining package customization, person-to-person communication, and brand experience.
Although partnering with a 3PL can result in considerable time and cost savings, giving up control of the delivery process can be tough for some eCommerce owners. Similarly, a 3PL partner can save businesses money in the long run, however, they often have larger upfront costs compared to in-house fulfillment and other options.

The Benefits of a 4PL
Many 4PL partners provide comprehensive technology solutions which can be a critical component for eCommerce and their supply chains. Knowing that your entire logistics process is handled by a single point of contact allows you to sit back and truly watch the backend of your business seemingly run itself.
Vendor Management
A 4PL partner serves as a single point of contact for your entire supply chain. This means there is no coordinating between multiple suppliers, waiting on hold, resolving issues, or finding new partners when one falls short.  Instead, your 4PL partner will do all the planning and communication on your behalf while you focus on other aspects of your business.
Supply Chain Visibility 
A 4PL can assist you in developing and implementing cloud-based systems that collect data from a variety of external and internal sources. This sort of system offers valuable insight into all aspects of your supply chain from a single dashboard. End-to-end supply chain visibility allows you to know where your inventory is at all times and provides transparency over each of your supply chain partners.
Data Solutions
Data solutions are used by 4PL partners to track fulfillment and monitor conformance to standardized regulations, ensuring efficiency from on-the-road operations via invoice accuracy and payments. Additionally, 4PL partners contribute to the overall quality and accuracy of shipping data via data certification, data integrity checks, and ongoing data maintenance. One of the most significant downsides of utilizing a 4PL partner is how much eCommerce must rely on their 4PL once integrated. Typically, these suppliers provide key services that, over time, may reshape an organization's entire supply chain and build a reliance on them. Working with a 4PL can also be costly for small and medium-sized eCommerce businesses.
At the end of the day, it's important to look at your business and determine which logistics partner would be the best fit for you.  Although both are great options, one provides advantages the other will not.  A 3PL works well for growing businesses interested in working alongside a single logistics partner while still maintaining adequate control and personalization.  A 4PL is geared toward established eCommerce businesses looking to fully automate their entire logistics platform through a single point of contact.  What businesses sacrifice in control and personalization, they make up for with efficiency and optimized supply chain performance.  When partnering with Falcon, you receive full transparency, professional fulfillment services, and above all else, you retain control.  Talk with one of our agents today.
Related posts: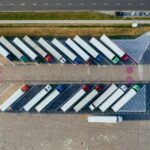 1PL, 2PL, 3PL, 4PL, 5PL: Logistics Providers Explained