The fulfillment world has many options. E-commerce owners everywhere are asking themselves the same question: "what order fulfillment would work best for me?" We're here to guide you through the pros and cons of dropshipping vs 3PL partners.
Dropshipping and third-party logistic (3PL) providers may seem to provide similar services, but they are fundamentally different. Learn how the differences between these two fulfillment services and decide which option would benefit your business the most.
What is Dropshipping?
Dropshipping is a method of fulfillment commonly used by small companies and startups because of its low capital needs upfront. The low-cost start is enticing to new businesses because they are not responsible for stock or inventory and can be charged on a per-product basis. 
Dropshipping allows a seller to purchase the product directly from a third-party supplier (typically a wholesaler or manufacturer) and have it made and shipped directly to the customer.
Throughout the process, the seller does not have to physically handle any items, nor do they have to worry about fulfillment, inventory, shipping, or other similar issues.
It is commonly used by startup businesses due to its minimal risk, but it is often moved away from after a company scales due to reduced profit margins and lack of control.
Are you looking to grow your eCommerce?  Learn how to scale past dropshipping.

What is a 3PL?
The terms fulfillment services and third-party logistics (3PL) are commonly used interchangeably.  Larger businesses that sell higher quantities of products typically utilize a 3PL.
These partners essentially manage the entire fulfillment process of their partnered brand. They receive items from manufacturers, store inventory, pick and package orders, kit bundled products, manage customer service, and have essential customization options. 
Some of the major reasons why businesses pick a 3PL are higher profit margins and better flexibility and control.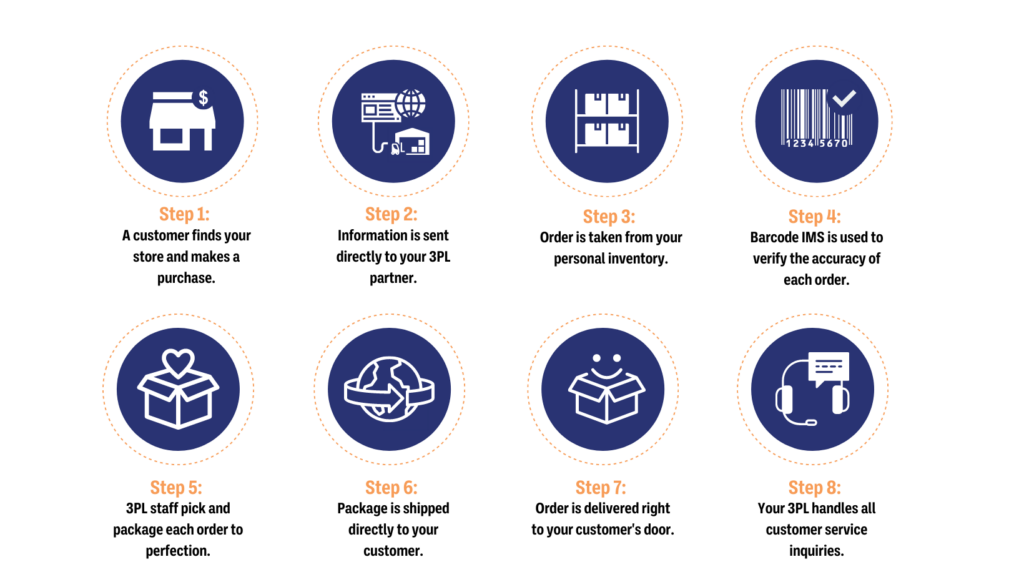 Dropshipping vs 3PL: The Differences
Customer Service 
Dropshipping
Dropshipping allows you to buy the products that your consumers have ordered from you in real-time. This eliminates your need to keep inventory on hand and makes it easy to fulfill orders.
However, you are paying another organization to supply the product, fulfill the order, and deliver it to your customer. Customer support is something that dropshippers do not provide and is left up to the individual business.
This means that whatever questions, comments, or concerns your customers have, will fall on your shoulders.  Whether it's about a return policy or an error you didn't cause, it's up to you to figure out.
Third-Party Logistics
Order fulfillment is a seamless process when working with a third-party logistics provider. Instead of providing you with an item, boxing it up, and sending it out to your client, these components are slightly altered.
A third-party logistics provider (or 3PL) is often not engaged in manufacturing an item or product. It's the seller's obligation to take care of this.
After providing the necessary inventory to a 3PL partner, the 3PL will then take care of the fulfillment process. The whole fulfillment process will require no help on your part aside from providing packaging preferences. They store and ship items to your customer in addition to taking care of many return and customer support requirements.  
When you connect with a 3PL, you form a partnership with someone who will oversee and manage your entire fulfillment process from beginning to end. All that is left for you to do is what you do best: create amazing products and translate your passion for them through stellar marketing.
"86% of shippers said the use of 3PL's has contributed to improved customer service."
Upfront Payment 
Dropshipping
Again, getting started with dropshipping does not require a large investment. Costs are minimal in the beginning to make an account, list your products, and start selling. 
This is because money is only exchanged 1). when a customer orders from you 2). when you purchase the ordered items from your dropshipping provider. 
This can be done using automatic notifications with some dropshipping supplier, which can manage your money, products, and orders with little to no help on your part.
Third-Party Logistics
Businesses that choose to work with a 3PL partner are those that want to invest in their business. While the upfront payment may be larger, investing in a 3PL can be the smartest choice for a scaling e-commerce business.
Going from self-fulfillment to outsourced fulfillment will ease up time and talent from your team and allow it to shine again in areas that help your business grow. A 3PL partner's main purpose is to take the entire fulfillment process of a company and do it for them and do it even better. 
Fulfillment is such a big process that requires years of expertise to truly succeed at.
"Dropshipping is the entry point for a lot of people to business, e-commerce, and entrepreneurship. It's the perfect first business."
Lachlan Delchau-Jones
Scalability 
Dropshipping
Scalability is an important aspect when owning a business.  Why?  Because you want your business to grow, and with growth, comes the need for more space and more hands. 
When a seller is dropshipping and their product takes off, it's hard for a dropshipping provider to scale with said company.  This is because a dropshipping supplier only has so much of their own inventory in stock, and they do not work with individual businesses and their own inventory needs.  If your provider runs out, so do you.  
Third-Party Logistics
Many people look to a 3PL as a viable option for their business because of a 3PL's ability to scale.  3PL's have large inventory spaces, facilities, and staff. 
All were created in the hopes their clients would scale and require a need for more inventory space as they grow.  So, if your business is likely to scale, or if it already has, a 3PL might be a better option to give your company the potential to succeed. 
Geography
Dropshipping
When you work with dropshipping providers, you run the risk of geographic scarcity.  By this, we mean that dropshipping suppliers often have a single place of operation, where they manufacture and ship orders out around the world. 
While this might seem fine, it can actually cause increased delays in fulfillment and shipping time, delivery errors, and shipping prices.  If your brand sells internationally or to multiple locations throughout the country, dropshipping might be a slower and more expensive approach. 
Third-Party Logistics
By contrast, 3PL's often have various locations spread throughout the country and sometimes throughout the world.  This means that wherever your customers are, there is guaranteed to be a facility close to them.  Resulting in faster delivery, cheaper shipping prices, and happier customers. 
If you're selling to a wide range of buyers across the world, a 3PL with multiple locations may be a wise choice. 
Bulk
Dropshipping
Lastly, sellers who decide to dropship will quickly notice that the products or items they choose to sell are marked at a lower price than what they'd find personally.  This is because the dropshipping provider offers a "wholesale" discount on the items you purchase, to allow you to make a profit while also using their services. 
This is great when you have small amounts of items to fulfill and you're expecting to make a 40-60% profit.  After all, those numbers eventually add up, right?
Third-Party Logistics
The difference in buying wholesale through a 3PL is that the more inventory you buy, the bigger wholesale price you'll have.  If you're fulfilling thousands of orders, it makes sense to buy thousands of items at a cheaper rate. 
If you're dropshipping, wholesale discounts do not increase and the profit would eventually be close to nothing if you were fulfilling a large number of orders. 
"91% of 3PL users report their relationships are successful and their work has positive results." 
Dropshipping vs 3PL: Limitations and Benefits
Limitations of Dropshipping
Cannot scale.

Often only has one "main" location.

Sellers cannot purchase items in bulk.

Sellers cannot forecast holiday availability or shipping times.

Shipping can be slower and more expensive.

High competition.
Limitations of 3PL
Inventory is limited to what you have on hand.

Seller is responsible for delivering inventory to a 3PL facility.

Upfront inventment.
Benefits of Dropshipping
Low or no-cost investment.

No inventory management.

Zero need for a physical store.

Sell one, or ten, no order minimum.
Benefits of 3PL
Access to experts and experienced partners.

Ability to focus on other things (simplified internal logistics).

Scalability. 

Cheaper shipping.

Faster shipping.

Houses and manages inventory.
Multiple locations.
"75% of shippers said the use of 3PL servicess has contributed to overall logistics cost reductions"
Dropshipping Vs 3PL: Which One Do You Need?
Are you considering which one is the best fit for your business? Sometimes it can be a little confusing when deciding where the line falls between dropshipping vs 3PL partners. 
However, the answer is simple. If you are a start-up business testing out products, casually selling, locally selling, or selling in quantities of less than 200 a month, dropshipping is the better option for you!
Need a 3PL Partner?
Are you currently dropshipping or independently selling a minimum of 200 orders a month or more?  A 3PL might be a better option now that you're gaining speed. 
With various 3PL's out there, all of them have different requirements, qualifications, and much more.  Let Falcon Fulfillment be the one to guide you through the 3PL world and help you decide whether working with a 3PL partner is the best thing for your company.