Omnichannel Fulfillment – What retailers need to know.
As a retailer, staying ahead of the competition is an ongoing battle. One of the ways to stay ahead is to ensure that you are providing your customers with the best possible shopping experience. That's why omnichannel fulfillment is quickly becoming the go-to solution for many retailers. 
Omnichannel fulfillment is a method of delivering products to customers that are based on the unified shopping experience that customers receive when shopping across multiple channels, such as in-store, online, and through mobile apps. The goal is to provide customers with a seamless shopping experience, no matter where they shop. So, what does omnichannel fulfillment mean for retailers? Retailers must have a comprehensive fulfillment strategy to provide customers with the best shopping experience. Here are a few key things you need to know about omnichannel fulfillment as a retailer:
Know Your Customer
To ensure that you provide the best customer experience, you need to know who your customers are and their needs. This means that you must have a comprehensive understanding of their buying habits and preferences. Hopefully, you already understand who your customers are and what they are looking for, but here are some questions to consider as you build an omnichannel experience.

Where does the bulk of your sales come from? Online? In-store? Via mobile app? 

What kinds of products are purchased via each channel?

What are the age(s) and demographic of your primary buyers? 

Where do most of your buyers live? 

What marketing channels are having the most success in conversion and audience engagement?
Integrate Your Channels
To provide a seamless shopping experience, you must ensure that your channels are integrated. This means you must have a unified platform that links all your channels, including your website, store, and mobile app. Key features to include in your omnichannel software programs are:
A platform that can manage all the business's channels, including order fulfillment, cross-channel marketing, and additional integrations like a CRM. 

Manage and combine customer-facing commerce channels. This would include all POS systems in-store, online, and via social media.

Deliver functionality for B2C or B2B omnichannel commerce

Maintain product availability and data across all channels.
If you work with a 3PL fulfillment partner, ensure their software will integrate seamlessly with your platform. Or if they, like Falcon Fulfillment, provide API integration tools and an account manager to assist with implementation and integration.
Streamline Processes
Because omnichannel fulfillment covers many systems, channels, and customers, creating workflows that cater to an excellent customer experience is crucial. Creating a smooth omnichannel fulfillment experience requires efficient processes. This includes automation and streamlining workflows. Start by reviewing business operations such as marketing and initial point-of-sale.
Utilize Technology
You must utilize the latest technology to ensure that you are providing your customers with the best possible shopping experience. This includes using a customer relationship management (CRM) system to keep track of customer information, analytics to measure performance, and automation to streamline processes. Here are a few specific ways to streamline processes for omnichannel fulfillment:
Automate Inventory management (more on this below)

Use automation in managing the sorting, movement, storage, picking, and packing of retail orders for last-mile delivery

Evaluate pick and pack procedures for inefficiencies

Implement effective and easier returns management
Optimize Inventory
One of the most important elements of omnichannel fulfillment for retailers is optimizing inventory. You must have an effective inventory management system to provide your customers with the products they want when they want them. This includes having a real-time view of inventory so that you can quickly adjust your stock to meet customer demand. Automation software, streamlined processes, and ensuring all systems integrate with real-time data help optimize the flow of goods in and out. Check out four ways a 3PL can help with outsourcing inventory management. 
---
Omnichannel fulfillment is quickly becoming the go-to solution for many retailers. By understanding the key elements of omnichannel fulfillment and utilizing the right technology and processes, you can ensure that you provide your customers with the best shopping experience. Here at Falcon Fulfillment, we specialize in omnichannel fulfillment. We provide 7-day operations, 99.9% order accuracy, and automated inventory management. We don't believe in a one-size-fits-all approach but believe that a seamless partnership and integration are essential to success. If you want to learn more about how Falcon can help with your omnichannel fulfillment process, talk to one of our agents today.
Related posts: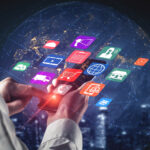 Omnichannel Fulfillment – The Falcon Difference