Read Part 2: Combatting the Environmental Impact of eCommerce

As eCommerce becomes the new normal for what was once primarily traditional brick-and-mortar experiences, rising eCommerce concerns are capturing the attention of shoppers and businesses alike. Although there are many concerns, we will focus on four environmental impacts of eCommerce that have emerged in recent years and what steps you can take to reduce these impacts.

eCommerce Pays Significant Contribution to the Largest Cause of GHG Emissions
Together, FedEx and UPS deliver over 34 million packages every single day.  Combine that with thousands of private truckers, shipping carriers, planes, ships, and freights.  This makes up a considerable amount of the 29% of GHG emissions attributed to the transportation sector. 
Image credit to

EPA
For each gallon of fuel used by a common delivery van, about 22 pounds (10 kilograms)  of CO2 is released into the atmosphere.  A delivery carrier traveling over 5,100 miles a year to fulfill next-day orders amounts to an annual 8 metric tons of CO2 for an average delivery van.
Photo credit to GlobalCurrent.com
The impact of eCommerce transportation will continue to expand. With consumer demand steadily increasing, eCommerce is expected to reach over $6 trillion in sales by 2024. This means we will likely see increased energy consumption, expanded infrastructure, and additional traffic due to delivery providers and fulfillment agencies.   

Combat Greenhouse Gas Emissions by Utilizing Alternative Delivery Options
BOPIS
Buy online pick-up in-store remains a popular option amongst online shoppers.  By offering customers the ability to pick up their items at a physical storefront, eCommerce companies help eliminate vehicle emissions for individual orders. The reduction of orders helps minimize the contribution to transportation pollution.
Use Multiple Fulfillment Center Locations
Whether you're investing or you choose to partner with a 3PL provider, utilizing multiple fulfillment locations helps your eCommerce reach customers faster, regardless of their location.  When your eCommerce has multiple distribution centers, the time it takes for orders to reach customers is reduced and pick-up options become more convenient for shoppers.
Pick-up Points
Pick-up points range from storefront locations and public parcel lockers to picking up from participating partners like the local grocery store.  These options allow customers to choose locations based on their needs, schedule and reduce the need for commercial product delivery.
Sustainable Carrier Programs
Popular shipping carriers like UPS and FedEx are now offering low-emission delivery vehicles, bicycle deliveries, and other efforts toward carbon offsetting and reducing GHG emissions.  By partnering with carriers who have a focus on sustainability, you gain eco-friendly credibility for your eCommerce company not just in the eyes of shoppers but for the planet too.
Purchase Carbon Offsets
Carbon offsets are great options for reducing vehicle GHG emissions – or any kind of pollution for that matter.  By determining how much CO2 your company emits a year, you can become carbon neutral by purchasing carbon offsets. These programs reduce your carbon footprint without making drastic changes to your company's operations or structure.

The eCommerce Industry is Creating a Massive Cardboard Footprint
During a 2018 EPA study, out of 82,000 tons of containers, packaging, and shipping materials, only half were recycled, resulting in over 30,000 tons of landfill waste.  This accounts for over 30% of the total annual waste in the US.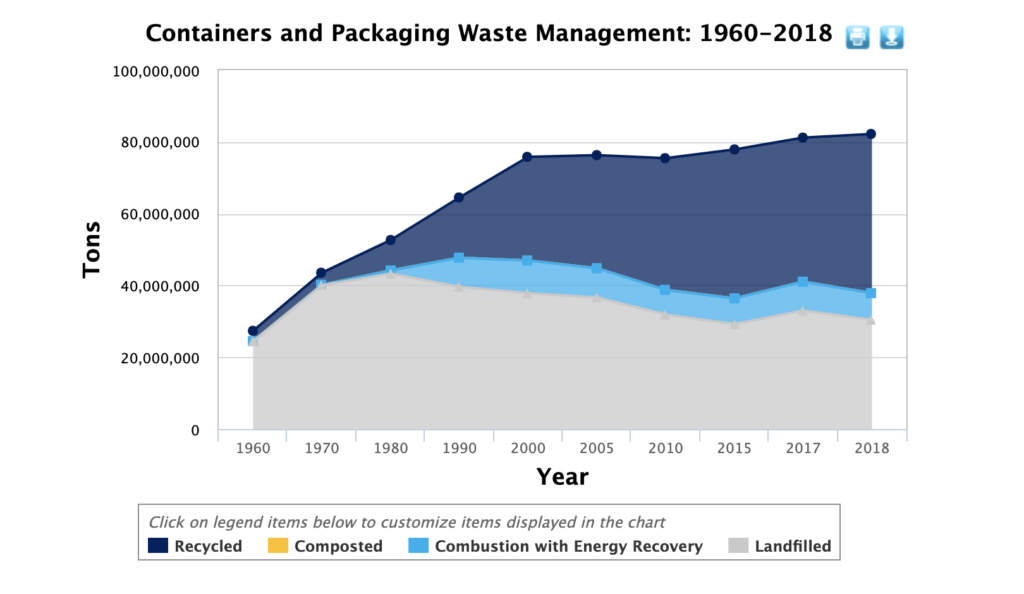 Image credit to EPA
Learn what happens to returned items and other eCommerce waste when they're sent to a landfill.
A noticeable amount of eCommerce packaging waste comes from:
A lack of space efficiency

Poor vehicle consolidation

Impulse shopping habits from consumers

Exessive packaging

Non-recyclable material  
By using right-size boxes, bundling orders, and filling up all available space in delivery carriers, your eCommerce can reduce transportation emissions by decreasing travel time and the number of trips it takes to fulfill orders.

Improve Packaging Procedures and Switch to Sustainable Materials
Reduce Unnecessary Packaging
Right-size packaging is important when reducing your package and material waste.  By utilizing the right-size shipping containers according to individual product sizes, you eliminate unnecessary room and the need for extra packaging filler.  With less room to move around, items are tightly secured and have a lower chance of being damaged, while safely making it to your customers without the extra wasteful material.
Make Packaging Recyclable, Reusable, or Biodegradable
Investing in recyclable materials helps your eCommerce make a greener impact even after orders have left your hands.  Providing customers with less packaging and recyclable material, shoppers are able to contribute to a positive environmental impact by following the recycling directions.  
For companies looking to deliver a more creative approach, integrating reusable purposes into product packaging reduces waste while also providing your customers with additional ways to enjoy your brand.  Consider reusable packaging ideas like:
Packaging that can be re-purposed into product holders.

Shipping boxes that can be re-purposed into a cardboard castle for cats.

Packaging that can be re-purposed as hangers or for product organization.
Another great option is to make your eCommerce and shipping packaging biodegradable.  This way, whatever material does make it to your customer, you won't have to rely on them to recycle or reuse.  Shoppers can dispose of packaging and waste will take less than 180 days to fully decompose when appropriately sent to an industrial facility.
Conclusion
From GHG emissions to a massive cardboard footprint, the environmental impacts of eCommerce are real and important for consumers and businesses alike to consider.  Knowing that eCommerce transportation contributes to the highest cause of GHG emissions and is responsible for 5 billion pounds of annual landfill waste presses the point to shift to sustainable practices. Fortunately, we can reduce the global environmental impacts of eCommerce by utilizing alternative delivery options such as delivery pickup points and 3PL partners, as well as combat landfill waste by switching to smaller boxes and sustainable packaging materials.
Take Sustainability Seriously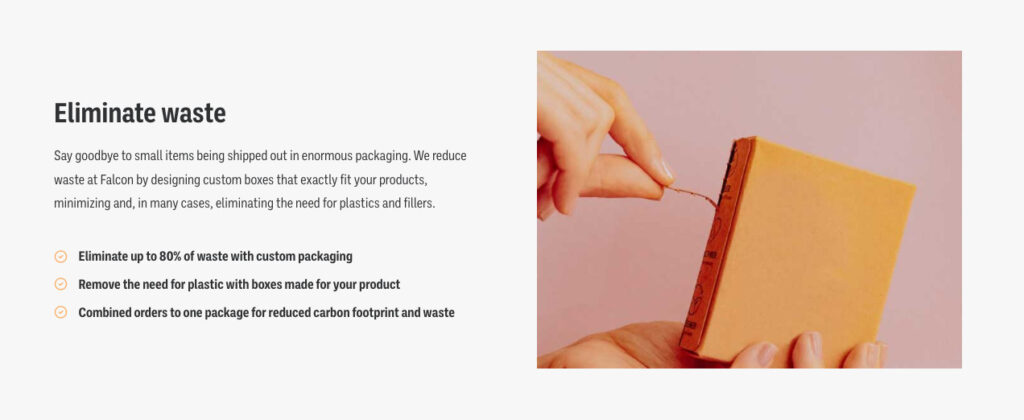 Take a step toward sustainability and talk with one of our agents today.  Not only can we deliver the one-of-a-kind experience you've created for your loyal customers, but we can deliver it with minimal negative environmental impacts. 
Make sure your customers know the planet is important to you and partner with Falcon today.